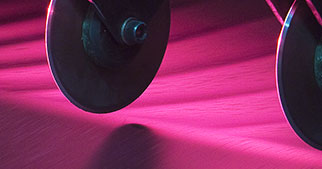 PACKAGING OF RUBBER SHEETS
The rubber sheets produced by Tovo Gomma are mainly packaged in rolls and plates, with the following dimensions and tolerances, based on thickness:
TEXTILE INSERTS: the sheets are produced either in rubber only or with nylon or polyester inserts.

SURFACE FINISH: the surface is usually smooth but one or both sides can made with cloth impression on request.

TECHNICAL SERVICE AND R&S: Tovo Gomma laboratory is devoted for R&S to develope own and customer products.
DIMENSIONS
the sheet are manifactured in rolls and plates with following dimensions and tollerances.
for thicknesses up to 10 mm
width 1.500 mm; length 10.000 mm
for thicknesses over 10 mm
width 1.030 mm; length 1.060 mm
DIMENSIONAL TOLLERANCES
width rolls
± 30mm
length rolls
-0 + 500 mm
thickness up to 1,5 mm
± 0,2 mm
from 2,0 to 3,0 mm
± 0,3 mm
from 4,0 to 6,0 mm
± 0,5 mm
8,0 mm
± 0,8 mm
from 10,0 to 15,0 mm
± 1,0 mm
over 15,0 mm
± 2,0 mm

Packaging